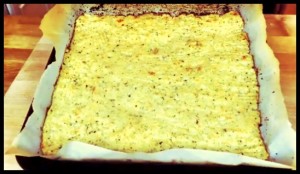 1 head cauliflower
1 egg
1/2 cup cheddar or Parmesan or mozzarella cheese
A pinch or 1/2-1 teaspoons of kosher salt if you like salt (like I do!)
A pinch each of ground pepper and Italian herbs (a very liberal pinch!)
1. Preheat oven to 375F.
2. Cut up cauliflower and pulse in a food processor until you get "cauliflower rice."
3. Strain out about 1/2 cup of water from the cauliflower by placing it in a cheesecloth and squeezing the water out.
4. Place on a parchment paper lined baking sheet in a single layer and bake for 15 minutes.
5. Remove from the oven and place in a bowl, along with the egg, cheese, and spices. Mix so all is incorporated.
6. Turn up the heat to 450F and bake for 15-20 minutes.
7. Remove from the oven and top your pizza as you wish! I added traditional pesto, sundried tomatoes, roasted cherry tomatoes, garlic, caramelized onions, and cheddar cheese and baked it for another 10 minutes until the cheese was melted and browning. Then I topped it with fresh basil and had one of the best dinners I've had in a while!!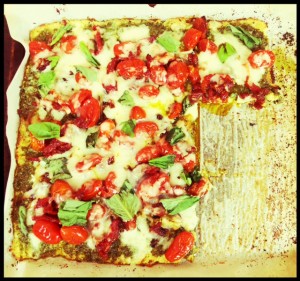 See the video: