Christmas & Chanukah are upon us, people! It's time to break out the stretchy pants and indulge in the tastes this season always has to offer.
Not so fast, slick! You might be able to leave those spandexy, fly-less pants on the shelf this year and wear those skinny jeans after all, because I'm about to blow your mind.
(Ok, maybe your mind won't be completely blown, but humor me. I'm very excited about this)
What follows are ten (count em' – TEN!) healthy but oh so tasty holiday recipes for you to create an entire holiday feast for any and all of your holiday meals (how many times can one say holiday in one sentence? Four, apparently. Four.)! I kid you not! I perused my recipes and not only picked the best of the best (just kidding, they're all the best), but also the easiest, no fuss no muss ones! Why? Because you shouldn't have to be a chef or even have an affinity for cooking to be able to build yourself a holiday (there's that word again) meal that won't break your pants, that's why.
You're welcome.
1. Caprese Salad Platter
This festive (come on, green and red?) salad is so tasty, and so good for you. There is no cooking required! I like doing this without the cheese because it makes for a lighter dish, but if you're feeling naughty, you can go ahead and add some sliced burrata or mozzarella cheese. Don't worry – I won't tell Santa. He probably already got your gifts anyway.
Here is what you need:
2 tomatoes
A handful of fresh basil
Extra Virgin Olive Oil (EVOO)
Balsamic Vinegar
Sea Salt and Pepper
Optional ingredients:
Olives
Cucumbers
Burrata or Mozzarella cheese
Slice the tomatoes about ¼ inch think. Fan them out on a nice plate. Place a leaf of basil in between each tomato. Drizzle with about a tablespoon of EVOO, a teaspoon of Balsamic Vinegar, and a pinch each of sea salt and pepper.
If you decided to use cheese, place a piece of sliced cheese in between each slice of tomato and basil. If you added cucumbers, do the same (this is getting more and more beautiful, don't you think?). Top with olives if you dare.
2. Pesto roasted tomatoes
I can't take credit for this one. My good friend (ha, ya right – in my dreams) Ina Garten created this recipe, and it's a hit every time I make it. It also happens to be green and red, so it's pretty spot on as far as a holiday recipe goes. Oh, ya, and it's delicious too. So, there's that.
You're welcome.
See the video and recipe here:

3. Vegan eggnog
Even if you're not vegan, eggnog can add a lot of unnecessary calories to your holiday waistline. Why not replace it with this dairy-free version, save a bunch of calories, and spend them on other things instead? Like more dessert?
See the video and the recipe here.

4. Almond Milk Peppermint Hot Chocolate
Don't you just love when Starbucks switches their regular cups for holiday ones, and puts up their festive holiday drink menu? I'll admit I don't drink Starbucks, but during the holidays, I'm a sucker for their peppermint hot chocolate. Up until this year, they didn't offer it with almond milk (only regular and soy), so I had to come up with my own recipe in order to indulge (lest I want to be doubled over in pain by drinking milk). This version not only tastes great, but it comes without the sugary syrup Starbucks squirts into your beautiful holiday cup (ick).
See it here:

5. Roasted Butternut squash with a twist.
Butternut squash is the bomb diggity on any day of the week, and it's especially welcome at the holiday table. That beautiful orange just shines merry and bright, don't you think? Try putting a spin on your roasted squash this year by sprinkling it with a teaspoon of garam masala. So yum!
This is how you do it:
Peel, seed and chop a small butternut squash into 1/2 inch cubes.
Place on a sheet pan and drizzle with sea salt, pepper, 1/2 teaspoon of garam marsala and 1-2 tablespoons of extra virgin olive oil.
Bake at 375F for 30 minutes, or until tender.
6. Quinoa, feta, date and pomegranate stuffed acorn squash
Stuffed squash. It's a vegan's go to for any holiday meal. Haven't tried it yet? Great news. You don't have to be vegan to enjoy it (I know this because I fed it to my carnivore of a father when he was visiting a few years back, and he couldn't believe how good it was. He actually asked me to make more. This is huge news, people. HUGE. My dad is normally a steak and potatoes man, so I felt pretty good about myself that night.). The beautiful pomegranate seeds add to the festive beauty of this dish. And it's so hearty, it can even serve as a main meal! Score!
Here is a similar version of it:

You can use this recipe (the one featured in the video) as is, or you can replace the sundried tomatoes with dates, the nuts with pomegranate seeds (use a whole pomegranate) and add the feta. You can keep or lose the spinach and parsley, though I say keep it since it's both healthy and green!
7. Salted Dark Chocolate Almond Goji Berry Bark
Ya, this one is a mouthful, but it's a freakin AMAZE BALLS mouth full, mmk? MMk. And oh ya, SO easy and quick to make, and SO healthy! Yes. I said healthy and dessert in the same sentence. You love me right now, don't you?!
Don't answer that. I'll be crushed if you say no, and weirded out if you say yes.
Just kidding.
But if you say no, I'll cry. And since I better watch out and I better not cry, well, just don't say no.
I've taken this too far.
Moving on.
Here is the recipe:

8. Warm baked apples with coconut vanilla ice cream and coconut whipped cream
This recipe couldn't be easier! All you have to do with the apples is slice them (get granny smith – they are the sturdiest), drizzle them with some cinnamon, and bake them at 350F for about 20-30 minutes or under tender but still firm (place them in a pyrex or casserole dish). I don't think they need to be sweeter, but you're welcome to add a drizzle of maple syrup to them before the go into the oven.
Top them with the best coconut vanilla ice cream in town (I'm a personal fan of Coconut Bliss) and the recipe for coconut whipped cream (AKA the easiest vegan whipped cream on the planet – see below). Sprinkle with a little bit of cinnamon and you're good to go!

 9.Roasted Rainbow Carrots with Tahini dressing
I can't take credit for this recipe either. Oh She Glows did it, and boy did she do it well!
See the recipe here.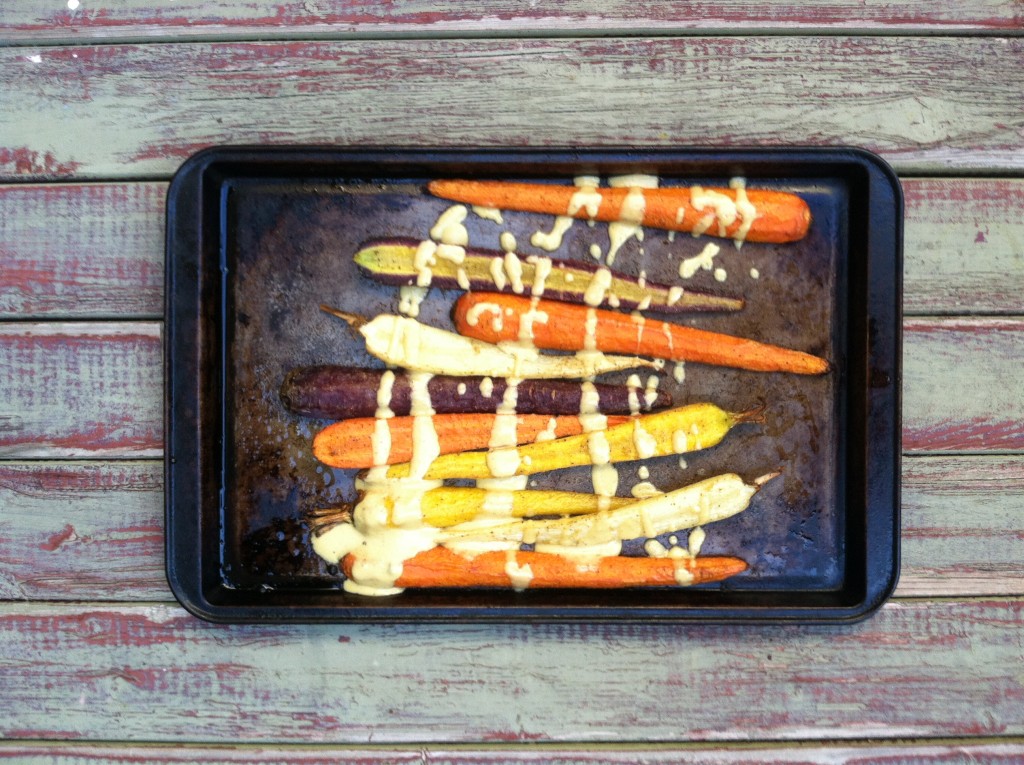 10. Brussels Sprouts with roasted pecans and balsamic reduction
I hated Brussels Sprouts until someone showed me how to roast them until they are crispy and delicious (and don't smell like farts after having been boiled and overcooked to oblivion, just the way my dad likes them. Ew. Dad. We need to talk).
You might want to hide these puppies when the guest come over, because I've been known to eat them all off the pan before they even make it to the table. That's how good they are. Don't believe me? Try them. You'll be apologizing to me later for doubting me. Don't worry. I accept apologies in advance.
You're forgiven.
Now go make some Sprouts.

Ladies and gents, there are TEN recipes to make your taste buds, your guests (even the ones with weird dietary preferences like me), and your waistlines happy as you enjoy the accoutrements that this season has to offer.
Enjoy, and happiest of holidays to you and yours!
Love, love, love,
Lauren
xxx
(and Madison….and Santa….xoxo)