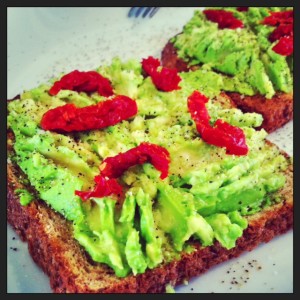 2 pieces sprouted bread, toasted
1 small to medium sized ripe avocado
A handful of sun-dried tomatoes
A pinch each of salt, pepper and All Purpose Greek Seasoning
A drizzle of extra virgin olive oil
1. Toast your bread.
2. Spread the avocado onto your bread, 1/2 per side. Squish down with a fork.
3. Place your sun-dried tomatoes on top of the avocados (as many as you want, but not overkill).
4. Sprinkle with salt, pepper, and Greek seasoning.
5. Drizzle with extra virgin olive oil.
Enjoy!
See the recipe: