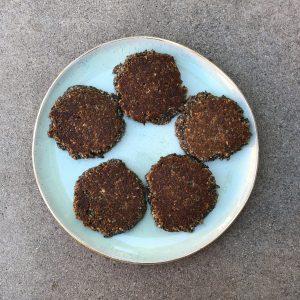 1/2 cup chia seeds
1/2 cup hemp seeds
1/4 cup gluten free rolled oats
1/4 cup tapioca flour
2 dates
2/3 cup coconut or other non dairy milk
1 tbsp maple syrup (optional)
1. Make your date/coconut milk by combining 2 dates and 2/3 cup coconut milk in a blender. Blend for about a minute. It won't be completely smooth, but it's all good. There is no need to strain it! Set aside.
2. Prep your seed mixture by combining all the seeds, oats and flour in a food process. Pulse until the seeds are broken down, about 1 minute. Place the seed mixture in a bowl. Add in your coconut/date milk and maple syrup. Stir until just combined.
3. Heat up a griddle and cook your pancakes on medium low heat. Once browned on one side, flip over and brown on the other side.
4. Serve as you desire! My favorite is to sprinkle them with cinnamon, top them with sliced bananas, and put some maple syrup on the side for dipping. Almond butter would also be a phenomenal addition!