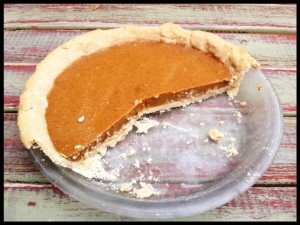 1 batch of vegan gluten free pie crust
1 cup almond milk (or other milk alternative)
3 tbsp corn starch
1/4 cup maple syrup
1 cup pumpkin puree
1 tbsp coconut oil
1 tsp vanilla
1 tsp ground cinnamon
1/4 tsp ground nutmeg
1/4 tsp all spice
1/4 tsp salt
Preheat oven to 375F.
1. Roll out your pie dough on a large piece of parchment paper on a flat surface. Roll it out enough to fit a 8 or 9 inch pie dish.
2. Place a flat board underneath the rolled out dough (underneath the parchment paper too) to keep it from breaking. Place you pie dish – un-greased – upside down directly on the dough. With one hand underneath the board, and one hand on the pie dish, flip the dough so that it fills the pie dish. Arrange the dough in the pie dish.
3. Set aside in the fridge to chill for about 15 minutes.
4. While the dough chills, whisk the almond milk and cornstarch in a saucepan over medium high heat until there are no more lumps. Add in the maple syrup, and whisk constantly until the mixture thickens, resembling somewhat of a pudding consistency. This should take about 2-5 minutes.
5. When you've reached the proper consistency, remove from the heat, and add in the pumpkin puree and all the spices. Stir or whisk until combined. Set aside to bring the pumpkin filling to room temperature.
6. In the meantime, pull out your pie dough from the fridge. Gently poke a few holes in the bottom with a fork (this will keep air bubbles from forming). Bake the pie crust for 10-15 minutes, or until it starts to get golden brown.
7. Once the pie crust is golden brown, remove it from the oven and fill it with your pumpkin filling, ensuring it is evenly distributed.
8. Decrease the oven temperature to 350F, and bake the pie for another 5-10 minutes until the pie is set (it will jiggle like jello when it's ready).
9. Enjoy!
See the video: