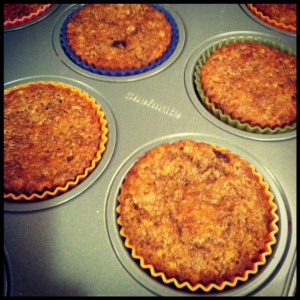 2 ripe bananas (preferably spotted or black)
1 cup GF all purpose flour
1/4 sweet sorghum flour
1/4 cup flaxseed meal
1/2 tsp baking soda
1 tsp baking powder
1 tsp xanthan gum
1/2 tsp sea salt
3/4 cup vegan or granulated sugar (if you're not vegan)
2 tbsp apple sauce, unsweetened
1 1/2 tsp vanilla extract
1/3 cup melted coconut oil
2/3 cup almond milk (or other non dairy milk)
1 cup vegan chocolate chips
1/4 cup pecan pieces
Preheat oven to 350F.
1. Cream the bananas until they are mush in a bowl fitted with a paddle attachment (you can also just use a fork if you don't have a bowl with a paddle attachment).
2. Add in the flours, flaxseed meal, baking soda, baking powder, xanthan gum sea salt, sugar, vanilla, apple sauce, coconut oil and almond milk. Blend until combined.
3. Once combined, add in the chocolate chips and pecans, and blend until just combined.
4. Line a cupcake tin with either silicon cups or muffin wrappers (this recipe should make about 12-13 muffins). Fill the tins 3/4 full with batter.
5. Bake for 10 minutes, then rotate, and bake for another 10 minutes or until a toothpick comes out clean.
6. The muffins will keep at room temperature for 3-5 days, but are best enjoyed within the first few days 🙂
Enjoy!