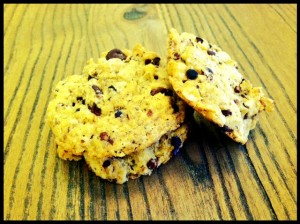 1/2-1 cup gluten free oats (err on the side of "more" if you like oats, less if you don't)
1 1/4 cup vegan sugar
1/4 cup ground flax meal
1 teaspoon kosher salt
1 teaspoon baking soda
1 1/2 teaspoon xanthan gum
1 1/4 cup Gluten Free all purpose baking flour
1/2 cup coconut flour
1 cup melted coconut oil
2 tablespoons vanilla
7 heaping tablespoons apple sauce
1/2 cup walnuts (halves and pieces)
1/2 cup cocoa nibs
1 cup vegan chocolate chips
Preheat oven to 325F.
In a large bowl, whisk together the oats, flours, sugar, baking soda, salt, xanthan gum and ground flax meal.
Add in the melted coconut oil, vanilla, and applesauce and mix together with a spatula, making sure it's all incorporated.
Now add your walnuts, cocoa nibs and chocolate chips, again, mixing it all together with a spatula, ensuring all is incorporated.
Scoop out cookie dough, 1 tablespoon at a time, and place on a parchment paper lined baking sheet. Bake at 325F for 8 minutes, and then rotate the cookies in the oven, and bake for another 7-8 minutes or until golden brown along the edges.
Take them out and let them cool for at least 10-15 minutes on the pan. Once they are cool enough to handle, transfer them to a wire rack to cool completely.
Makes 48 cookies.
See the video: