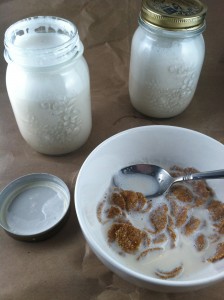 Almond Milk
1 cup raw almonds
8 cups water
1 tsp vanilla
1/2 tsp cinnamon
1. Soak the almonds overnight in water. If you are impatient, and don't want to wait all night, just be sure to soak them for at least 6 hours.
2. Strain the almonds and then, in batches, place 1 cup of almond in a blender with 4 cups of water. Blend until smooth.
3. Pour the mixture through a cheesecloth (you can buy this in the baking section of any grocery store) to remove any impurities. Make sure you put a bowl under the cheesecloth to collect your purified almond milk! I also put a colander under the cheesecloth, just ensure I didn't get any impurities in the finished product! Repeat the process with the second batch of almonds. Then, ring out the cheesecloth, trapping the almond meal in the cloth, and letting the "milk" drain into the bowl.
4. Put the purified almond milk back in the blender or food processor, add the vanilla, cinnamon, blend, and enjoy!
See the video: