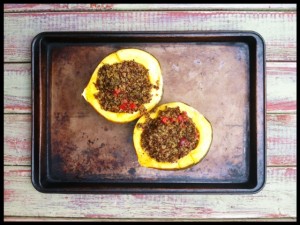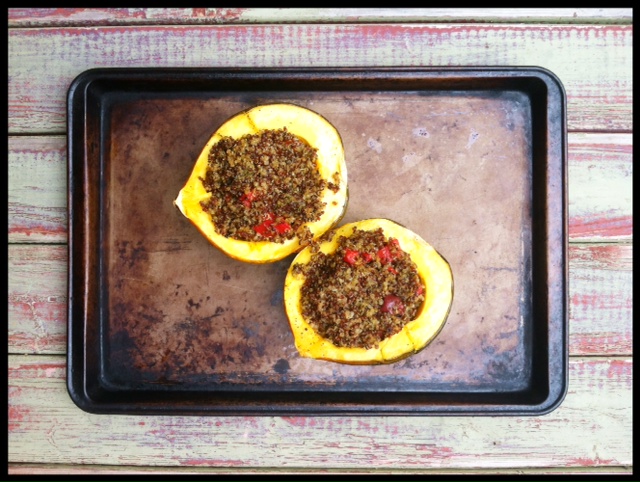 2 whole medium sized acorn squashes, washed and dried
1 cup uncooked quinoa, rinsed
1 cup veggie stock
1 cup water
1/4 cup pine nuts
1/4 cup cashews
1 large handful of fresh spinach
1/2 cup sundried tomatoes
1 handful of chopped fresh parsley
1 tsp sea salt
1/2 tsp ground black pepper
Extra virgin olive oil (EVOO) for drizzling
Preheat oven to 400F
1. Poke holes in the acorn squash with a fork in a few places, piercing the skin. Place the squash on a baking sheet, whole, and bake for 40-50 minutes, or until tender.
2. While the squash is baking, make your quinoa. Cook it according to the instructions on the package, which should tell you to use 2 cups of water per 1 cup of quinoa. But replace 1 of the cups of water with your 1 cup of veggie stock.
3. When the quinoa is done, mix in the spinach right away so that the steam wilts it down. Toss until wilted down. Then add in your nuts, parsley, tomatoes, and spices. Set aside.
4. Once the squash is tender, remove them from the oven. Using an oven mitt, carefully cut them in half. Remove the seeds, and place the squash halves in a baking dish, skin side down. Drizzle some EVOO on top of them, and sprinkle them with some sea salt and pepper. Then, fill the squash with your quinoa mixture, just to the brim.
5. Bake for another 5 minutes, and serve warm.
Enjoy, and happy holidays!
See the video: