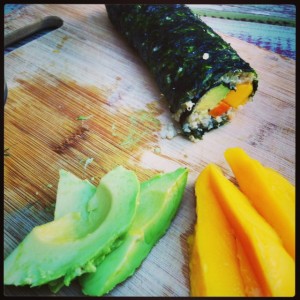 2 sweet potatoes, cut into strips and baked in EVOO, salt and pepper at 375F for 30 minutes
2 mangoes, cut into strips
2 avocados, cut into strips
2 cups cooked quinoa
1 – 1 1/2 tablespoons spicy mayo or chipolte mayo
2 teaspoons rice wine vinegar
Sprinkle of black sesame seeds mixed with salt (if you can't find them, just use regular sesame seeds and a pinch of kosher salt)
6-10 nori sheets
A small bowl of water
1. Place a piece of printer paper on a cutting board. Top it with a matching sized piece of plastic wrap. Place the nori sheet on top of the plastic wrap.
2. Cover the nori sheet with quinoa in a single layer, making sure to leave a centimeter on either side of the sheet free, as well as 1 inch at the top of the sheet.
3. Place the veggies in a single row about 1/3 the way up the nori sheet.
4. Make your first roll by lifting up the printer paper and squeezing the nori sheet over the veggies. Make another roll, squeezing as you go. Before you make your final roll, wet the 1 inch piece at the top of the nori sheet that you left free with water, then finish your roll.
5. Continue rolling your sushi until you have used up all your veggies.
6. To serve, either cut the rolls into pieces, or just eat the rolls whole. Serve with soy sauce and wasabi if you dare (:
Makes for a great healthy and nutritious snack, lunch, or light dinner!
See the video: