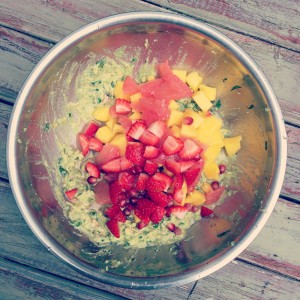 3-4 ripe avocados, halved
Juice of 1 lime
Juice of 1/2 a lemon
2-3 tbsp finely chopped red onion
1 handful of parsley, roughly chopped
1/2 tsp pepper
1/2 tsp sea salt
1 mango, ripe and chopped into chunks
1 ruby red grapefruit, sectioned
4-5 strawberries, small dice
1. Place avocados in a bowl with lemon and lime juice, parsley, salt and pepper. Mash until smooth (or chunky if you prefer chunky).
2. Add mangoes, ruby red grapefruit, and strawberries to the bowl. Stir to combine. Test the seasonings, serve and enjoy!
See the video: