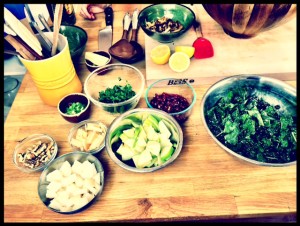 Serves 8
2 cups baked butternut squash (bake as instructed below) **use sweet potatoes if squash isn't in season**
1 medium sized onion, sliced and caramelized (as instructed below)
8 hands full of mesclun mix (about 8 cups)
2-3 cups of kale, washed, stemmed, chopped and massaged with 1 teaspoon of olive oil
1 1/2 cups cold cooked quinoa
1/2 cup chopped fresh parsley
1/2 cup pomegranate seeds and their juices
1 medium sized granny smith apple, chopped but not peeled
1/2 cup cubed jicama
1/2 cup Parmesan cheese, cubed or shaved
1/4 cup toasted walnuts
1 scallion, chopped
2 tablespoons ginger, microplaned down to about 1 teaspoon
The juice of 1 lemon (more if the lemon isn't very juicy)
2 tablespoons extra virgin olive oil
1/2 teaspoon ground cinnamon
1 1/2 teaspoons sea salt
1/2 teaspoon ground black pepper
Place all the ingredients together in a bowl, toss, and enjoy the magical flavors as they infuse your body with nutrients and delight!
How to bake your butternut squash:
Peel, seed and chop a small butternut squash into 1/2 inch cubes
Place on a sheet pan and drizzle with sea salt, pepper, 1/2 teaspoon of garam marsala and 1-2 tablespoons of extra virgin olive oil
Bake at 375F for 30 minutes, or until tender.
How to caramelize your onion:
Thinly slice a medium sized onion. Heat up 1 tablespoon of extra virgin olive oil in a pan over medium low heat.
Place the onions in the pan. Toss to coat. Keep stirring every 10 minutes for about 40 minutes, or until the onions are golden brown.
See the video: