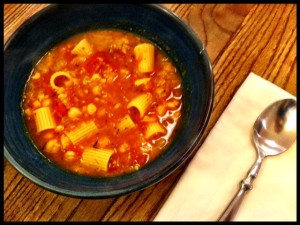 1 tablespoon extra virgin olive oil
1 medium onion, chopped small-medium dice
1 1/2 teaspoons dried thyme
2-3 cloves garlic, minced
3-4 canned plum tomatoes, with their juices
1 15oz can chickpeas, drained and rinsed
4 cups low sodium vegetable broth
1/2 teaspoon ground black pepper
1 teaspoon kosher salt
1/2 cup of your favorite short pasta (Rigatoni, Orecchiette, Fusilli, etc.)
1. Heat up a stock pot (soup pot) over medium heat. Add the oil and let it heat up.
2. Once the oil is hot enough, add in your chopped onions and dried thyme. Mix it up so that the thyme and onions get incorporated and coated with oil. Let them sautee for about 10 minutes, or until translucent and buttery.
3. Add your minced garlic to the pot and stir, letting it sautee only for about 30 seconds. Then add your plum tomatoes and their juices. Cut the tomatoes up with the tip of your spatula directly in the pot, cutting them messily into reasonably sized (bit sized) pieces. Let them simmer for about 3 minutes, allowing the flavors to come out.
4. Add in your can of rinsed and drained chickpeas. Use a fork, potato masher, or the butt of your spatula to squish 50-75% of the chickpeas down, leaving only a small percentage of them whole (this helps to thicken the soup).
5. Add in 4 cups of veggie stock, cover, and bring to a boil. Once boiling, add in 1/2 cup of your short pasta, and let it boil or simmer vigorously until the pasta is al dente (the instructions on how long to cook your pasta to al dente will be on the box or bag of pasta you choose).
6. Once the pasta is done, taste and adjust the seasonings, serve and enjoy!
See the video: