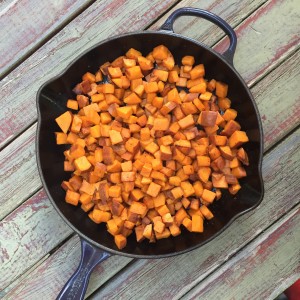 3-4 small or 2 large sweet potatoes, skin on and washed, cubed
1-2 tbsp EVOO
1/2 tsp ground black pepper
1/2 tsp sea salt
1/2 tsp ground cumin
1/2-1 tsp chili powder
1. Heat up 1-2 tbsp EVOO over medium-high heat in a large skillet. Add your cubed sweet potatoes and all the spices. Toss to coat.
2. Turn the heat down to medium and cover the potatoes with a lid to let them steam and saute for about 10 minutes, or until tender. Stir them around every few minutes to make sure you don't burn the bottoms.
3. Once tender, turn your heat up to high and toss the potatoes around to brown them. Serve warm.
Helpful tip: If you have any leftover, keep these in the fridge not only to warm up for later, but to add them to a tossed salad for extra flavor!
See the video: