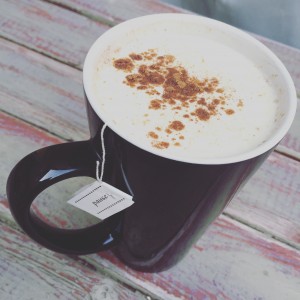 1 ginger tea bag (I prefer Traditional Medicinals Organic Ginger Aid)
2 cups water, boiled
1/4 cup full fat coconut milk
A pinch each of:
Cinnamon
Cardamom
Nutmeg
Ground Cloves
Turmeric
Pepper
1. Get your favorite mug (preferably a large one). Place your tea bag into it. Add a pinch of each of the spices, and then fill the mug with boiled water (leave enough room to add coconut milk).
2. Add coconut milk. Finish off with a sprinkle of your favorite spice (I like cinnamon). Drink and enjoy!
See the video: