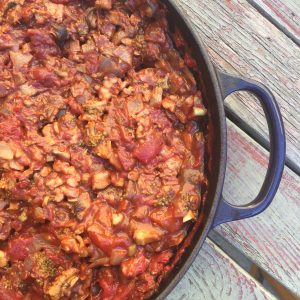 2 tbsp EVOO
2 medium onions, small dice
1 small head of broccoli, small dice
200g Shiitake mushrooms (about 2 cups), small dice
4 cloves garlic, minced
1 28oz can of plum tomatoes
1 15oz can of tomato sauce
1 bay leaf
1 tsp Italian seasoning
1 tsp sea salt
1/2 tsp black pepper
1 cup walnuts, roughly chopped
1. Heat the EVOO over medium heat. Add the onions, broccoli and mushrooms. Saute for 5-10 minutes or until soft.
2. Add the garlic and toss to combine. Add the tomatoes and sauce, along with the spices. Toss to combine and let simmer on the stove for about 20-30 minutes to let all the flavors come together.
3. Add the walnuts and toss to combine. Adjust the seasoning as you wish. Serve warm over any pasta of your choice or over spaghetti squash.
Enjoy!
See the video: