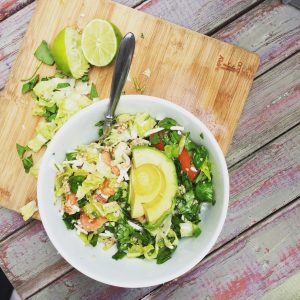 1 handful of spinach, chopped
1 handful of romaine lettuce, chopped
1 small tomato, quartered
1/4 cup shredded nut cheese (store bought – I like this brand: http://www.parmelacreamery.com/)
1/2 a batch of walnut meat (recipe below)
1/2 an avocado, sliced
1/4 tsp black pepper
1/4 tsp sea salt
The juice of 1/2 a lime (or a full one if the lime isn't terribly juicy)
1 1/2 tbsp EVOO
For the walnut meat:
1 1/2 cups walnuts
1 tsp cumin
1 tsp chili powder
1 tbsp coconut aminos
1. Pulse everything in a food process until it resembles ground beef (taco meat).
Putting your salad together:
1. Place all of your ingredients together in a medium sized bowl. Toss and enjoy!
See the video: